[Translate to English:] Eine Sammlung an verschiedenen Orten
Please note: The study room of the Kupferstich-Kabinett remains closed on 23 September 2021 due to an internal event.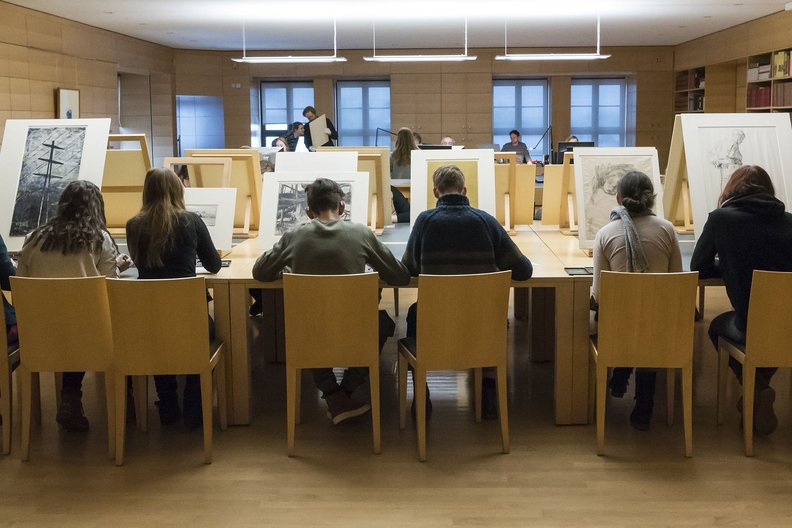 Other museums at the Residenzschloss
Kupferstich-Kabinett
Building
Opening Hours
daily 10—17 , Tuesday closed

Kupferstich-Kabinett Studiensaal
Building
Opening Hours
Monday 10—16 
Wednesday 10—16 
Thursday 10—17 
Friday 10—13 

Closing Hours
Notes on your visit
From Saturday, 11 September 2021: Please note that when the 35 incidence is exceeded in our museums, more extensive hygiene measures are required due to the Saxon Corona Protection Ordinance. The 3-G regulation applies.
Admission is only possible with a daily negative corona test or valid proof of vaccination or recovery. Please note that self-testing under supervision (§ 2 No. 7 a COVID-19 Protective Measures Exemption Ordinance) is not possible for capacity reasons.
Wearing a mask (FFP 2 or medical mouth protection) when visiting our museums as well as when queuing at the entrance is obligatory.
A distance of at least 1.50 metres from other persons must be maintained.
For contact tracking, it is necessary that you leave your personal contact details when you visit. To reduce waiting times, you are welcome to bring the form already printed out and filled in. To the form
Please book your ticket in our ticket shop before your visit.
Tickets
groups (10 persons and more)
5,50 €
valid for: New Green Vault, Turkish Chamber, Renaissance Wing, Hall of the Giants, Royal State Apartments of August the Strong and the Porcelain Cabinet, Firearms Gallery in the Long Corridor, current special exhibitions in the Kupferstich-Kabinett, except Historical Green Vault
Groups (10 persons and more)
12,50 €
Admission to the Study Hall is free, we ask for registration at 0351- 4914 3221 or kk.studiensaal@skd.museum
for visitors under 17 years
free
groups from 10 people
2,50 €
workshops
price per group 25 €
Location & Direction
Location & Directions
Kupferstich-Kabinett
Residenzschloss
Taschenberg 2
01067 Dresden

Josef-Hegenbarth-Archive
Josef-Hegenbarth-Archive
Museum
Opening Hours
on Thursdays by prior telephone appointment: 0351 4914 3211
Sunday 15—18 




24/07/2021 6—6   & 18—24 
Barrier-free access
Bitte beachten Sie, dass der Zugang nicht barrierefrei ist (Treppen).

[Translate to English:] Lage & Anfahrt
Location & Directions
Josef-Hegenbarth-Archiv
Josef-Hegenbarth-Archive
Calberlastraße 2
01326 Dresden
Directions