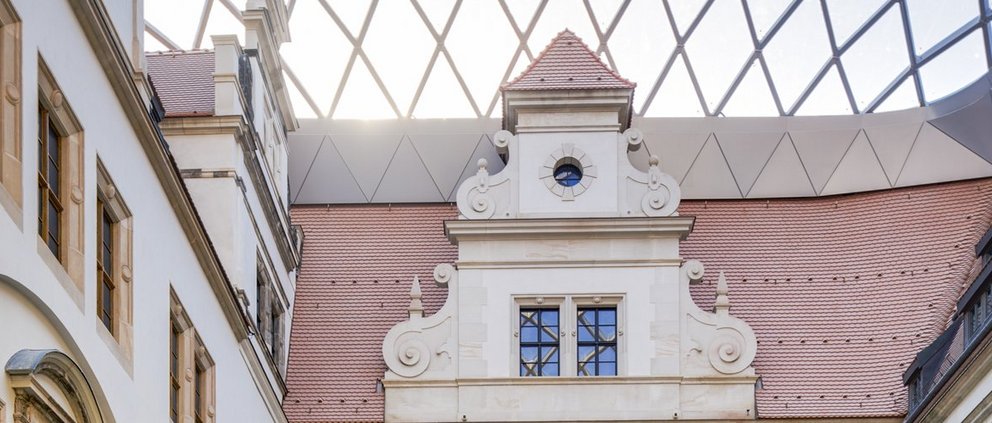 Glöckner. Works until 1945
With Hermann Glöckner (1889-1987), the Kupferstich-Kabinett presents an important position for the period of Dresden modernity. With drawings and paintings, which were executed in the first 40 years of his work, Glöckner's art until 1945 will be presented.
DATES

28/08/2010—07/11/2010
[Translate to English:] text1
In these artworks, his fascination for geometric forms and lines that structure the composition can already be observed. Later, Glöckner made a point of his "Tafelwerk", a group of works which is center as well as highlight of his artistic oeuvre and which he understood as a strong counterpoint to his freer representational works. In repetitive elements such as signs, chimneys, steamers or power lines, Glöckner deals with his environment whose charm lies in the unique linear structure.

Glöckner's broad oeuvre of drawings, paintings, collages, objects and sculptures developed independently from general art movements and official art politics and is coherent in itself. Uninfluenced during his lifetime, it was more or less unnoticed, but can, with no doubt, be seen in connection with other postwar art.

Accompanying the exhibition, the catalogue raisonné of all paintings, drawings and coloured sheets up to 1945 as well as the directory of his photographs will be published by Sandstein Verlag. The book is an fundamental cornerstone for further research on this extraordinary personality whose significance for German as well as European art was late recognized.
[Translate to English:] weitere Ausstellungen